Multi-Stakeholder Thematic Webinars: Preparing for the Water Conference and the Water Action Agenda
January 17 @ 9:00 am

-

January 18 @ 11:00 pm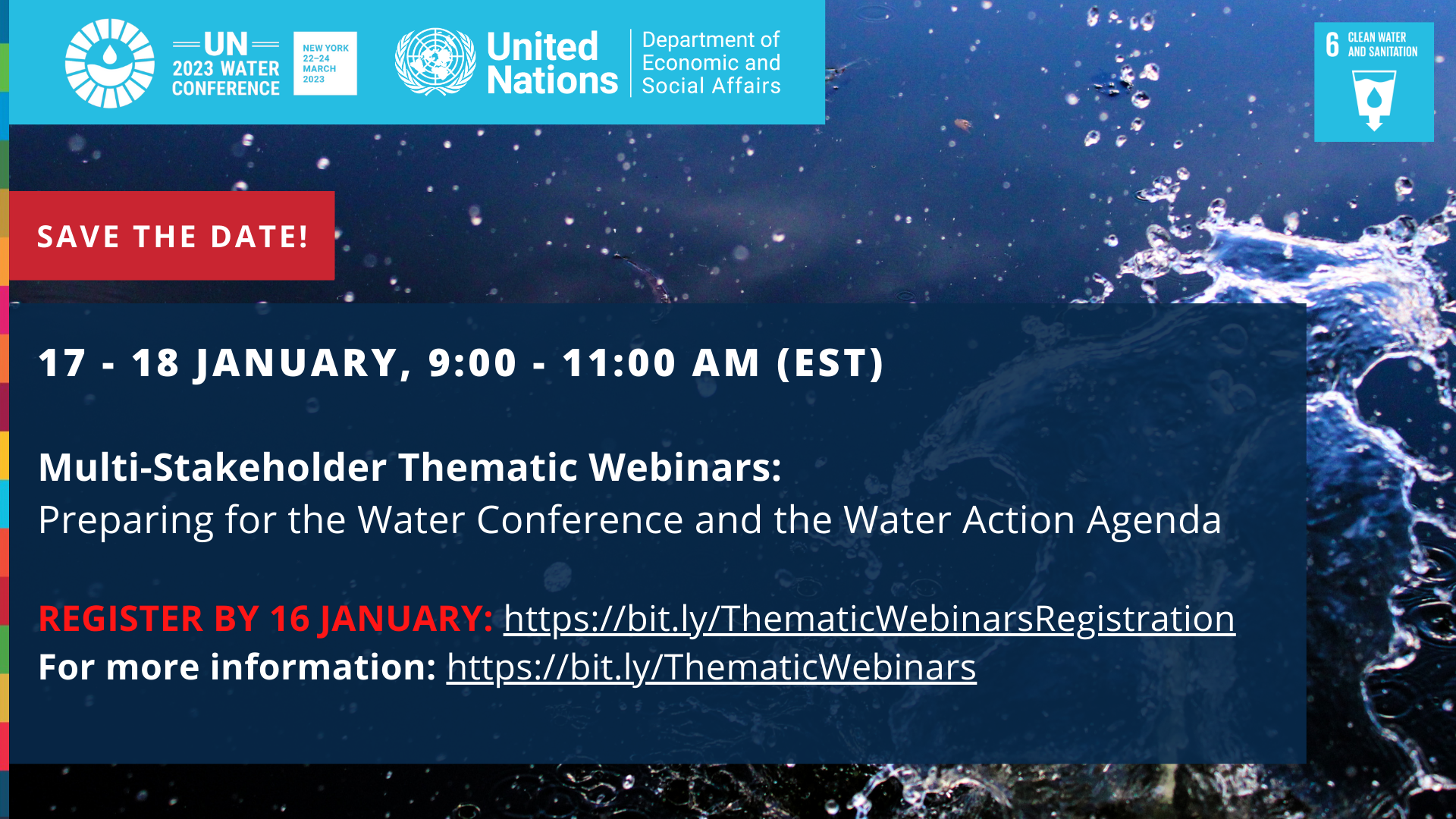 REGISTER NOW: https://bit.ly/ThematicWebinarsRegistration
The Multi-Stakeholder Thematic Webinars will be held virtually on 17 and 18 January 2023 from 9:00 – 11:00 AM (EST) as an additional opportunity for stakeholders to prepare for the UN 2023 Water Conference, including to encourage their contributions to the Water Action Agenda.
As one of the main outcomes of the Conference, the Water Action Agenda (WAA) will bring together voluntary commitments, pledges and actions from Member States and other stakeholders across all sectors, industries, and interests. It aims to foster collaboration and to provide concrete and actionable commitments during the preparatory process towards the UN 2023 Water Conference
The webinars complement a series of substantive contributions from stakeholders compiled through an online global consultation held in September 2022 and the stakeholder consultation hosted by the President of the General Assembly on 24 October 2022.
The webinars aim to inform participants on the opportunities for engagement in the UN 2023 Water Conference and the WAA by sharing perspectives and expectations on the voluntary commitments, and encouraging and inspiring stakeholders to register transformative gamechangers and voluntary commitments to the WAA.
The five interactive dialogues of the UN 2023 Water Conference will address the following themes:
Water for Health: Access to WASH, including the Human Rights to Safe Drinking Water and Sanitation (SDG 6.1, 6.2, 6.3 and SDGs 1, 3, 4, 5, 17)
Water for Sustainable Development: Valuing Water, Water-Energy-Food Nexus and Sustainable Economic and Urban Development (SDG 6.3, 6.4, 6.5 and SDGs 2, 8, 9, 11, 12)
Water for Climate, Resilience and Environment: Source to Sea, Biodiversity, Climate, Resilience and DRR (SDGs 6.5, 6.6, 7, 11.5, 13, 14, 15)
Water for Cooperation: Transboundary and International Water Cooperation, Cross Sectoral Cooperation, including Scientific Cooperation, and Water Across the 2030 Agenda (SDG 6.5, 6.b and SDGs 16, 17
Water Action Decade: Accelerating the implementation of the objectives of the Decade, including through the UN Secretary-General's Action Plan
Transformative gamechangers are expected for each of the above-mentioned Interactive Dialogues themes.
The events will be open to all interested stakeholders. The webinars will be livestreamed on Facebook. DESA/DSDG will prepare a brief summary of the events and will publish the recordings and relevant information on the official UN 2023 Water Conference website.